Cyrus the Great
The Cyrus the Great Cylinder is the first charter of right of nations in the world. It is a baked-clay cyliner in Akkadian language with cuneiform script. This cylinder was excavated in 1879 by the Assyro-British archaeologist Hormuzd Rassam in the foundations of the
Esagila
(the Marduk temple of Babylon) and is kept today in the British Museum in London.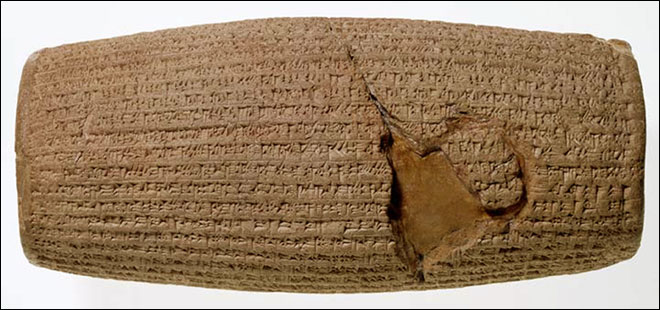 Cyrus the Great Cylinder, The First Charter of Rights of Nations
On October 12 (Julian calendar; October 7 by the Gregorian calendar) 539 BC, Achaemanid army without any conflict entered the city of Babylon. Cyrus the Great himself, on October 29, entered the city, assuming the titles of
"king of Babylon, king of Sumer and Akkad, king of the four corners of the world"
.
Cyrus The Great, on this cylinder, describes how he conquers the old city of Babylon and how his mighty army in peace marched into the city; his claim that he entered the city peacefully supports the same statement in the Chronicle of Nabonidus. The last king of Babylon, Nabonidus, is considered a tyrant with odd religious ideas, which causes Marduk, patron deity of the city of Babylon to intervene.
Cyrus considers himself chosen by a supreme god, is confirmed by Second Isaiah, the chapters 40-55 of the Biblical book of Isaiah. The Cyrus Cylinder then was placed under the walls of
"Esagila"
as a foundation deposit, following a Mesopotamian tradition.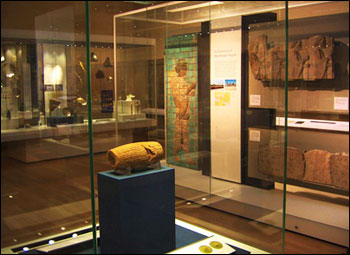 Cyrus The Great Cylinder, in the British Museum, London
There were three main premises in the decrees of the Cyrus Cylinder: the political formulization of racial, linguistic, and religious equality, slaves and all deported peoples were to be allowed to return to home; and all destroyed temples were to be restored.[1]
In 1971, the Cyrus Cylinder was described as the world's first charter of human rights,[1, 2, 3, 4] and it was translated into all six official U.N. languages.[4] A replica of the cylinder is kept at the United Nations Headquarters in New York City in the second floor hallway, between the Security Council and the Economic and Social Council chambers.[5]
Passages in the text of cylinder have been
interpreted as expressing Cyrus' respect for humanity, and as promoting a form of religious tolerance and freedom;
and as result of his generous and humane policies, Cyrus gained the overwhelming support of his subjects.[6]
The Cyrus Cylinder is not the only reason that the Cyrus legacy is admired. According to Professor Richard Frye[7]:
"In short, the figure of Cyrus has survived throughout history as more than a great man who founded an empire. He became the epitome of the great qualities expected of a ruler in antiquity, and he assumed heroic features as a conqueror who was tolerant and magnanimous as well as brave and daring. His personality as seen by the Greeks influenced them and Alexander the Great, and, as the tradition was transmitted by the Romans, may be considered to influence our thinking even now."
The size of Cyrus Cylinder is 23 cm long, 11 cm wide with 40+ lines of writing (although broken) and it is dated 539 BCE. -
See more at: http://www.iranchamber.com/history/cyrus/cyrus_charter.php#sthash.OdPi3YQC.dpuf
www.iranchamber.com