SATURDAY, AUGUST 2, 2014
OLIVIA DE HAVILLAND IN MONTREAL -
SHE WAS VERY GRACIOUS TO ME
As a young teenager in Montreal in the early 1950's, I would go to the movies three times a week and attend concerts and plays with my Pop or on my own. I had the good fortune to see Olivia de Havilland perform in Candida with Ron Randell, Terrance Kilburn and and Bramwell Fletcher .
After every performance, I would sneak backstage or wait at the stage door to meet the stars and get their autographs. Pop introduced me to the movies and music and it was he who first got autographs for me at our family's store, Metropolitan News Agency, when I was only about eleven.
When I went backstage to meet Olivia de Havilland, I was very disappointed. Bramwell Fletcher told me she was in a hurry to leave for an appointment. But Mr. Fletcher gave me Olivia de Havilland's address.
I wrote to Olivia de Havilland. Not only did she send me a paper with her autograph. She also enclosed a personal letter. That's the kind of memory I cherish.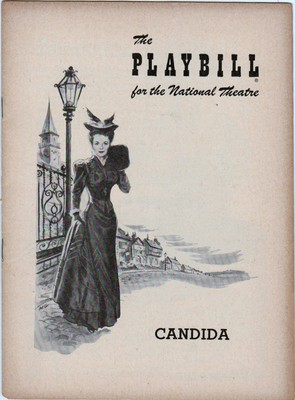 1952 Playbill Candida Olivia de Havilland
Also in the cast
Ron Randell, Terrance Kilburn,
and Bramwell Fletcher
Olivia Mary de Havilland was born on July 1st, 1916 in Tokyo, Japan. Her father, Walter de Havilland, was the head of a patent attorneys firm and her mother, Lilian Auguste Ruse (later Fontaine), was an actress and singer. Her sister, Academy Award winning actress Joan Fontaine was born a year later. When asked if she can still speak Japanese today Olivia replies, "Ich ni sanshi go roku shichi hachi kyu ju." (That counting 1-10) At the age of two, Olivia's parent's divorced and along with her sister Joan, Olivia moved with their mother Lilian to Saratoga, California. Shortly after her divorce from Walter, Lilian married a San Jose businessman named George Fontaine.
Quite the academic achiever, Olivia excelled at her studies and was engaged in a variety of activities including: editor of her school newspaper, public speaking, and ofcourse, performing in local theatre companies. She played the title role in a stage production of Alice and Wonderland, and was Puck in their rendition of A Midsummer Night's Dream. Olivia attended Los Gatos High School as well as the Notre Dame Convent Catholic Girl's School in Belmont, California.
After graduating from high school, Olivia was preparing to attend Mills College on a scholarship when she caught word of director Max Reinhardt's plan of an outdoor production of A Midsummer Nights Dream to play in Los Angeles and San Francisco. Olivia managed to get an audition through a friend and was offered the understudy role of Hermia. Not too shabby for a first time player! Olivia, still planning on attending college in the fall, went to Los Angeles to watch rehearsals when the actress playing Hermia suddenly dropped out of the production. Eighteen year-old Olivia is thrusted into the spotlight before all of Hollywood and, thank goodness, she and the play become a smash hit with audiences from around.
Warner Brothers decides to capitalize on the stage success and hires Max Reinhardt to direct the screen version of A Midsummer Night's Dream. Reinhardt in turn, decides to take Olivia with him and the unknown but up-and-coming-quick Olivia de Havilland signs a seven year contract with Warner Brothers. She kicks off her screen career as a co-star in 1935's Alibi Ike and follows with the film version of A Midsummer Night's Dream. Hollywood has a new leading lady and Mill's College, a prospective postponement.
Olivia was then cast in a series of success film movies, most of which were with eight-time co-star Errol Flynn with whom her natural chemistry with sizzled on screen. Among the films they made together include: Captain Blood (1935),The Charge Of The Light Brigade (1936), andThe Adventures of Robin Hood (1938).
In 1939, Olivia was cast in what is perhaps considered the greatest masterpiece of all time,
Gone With The Wind
. She played the role of Melanie Wilkes alongside super star Clark Gable and at the time, relatively unknown British actress
Vivien Leigh
. Olivia de Havilland received a nomination for an Academy Award for Best Supporting Actress but lost to co-star Hattie McDaniels who was the first African American to win an Oscar. The following year, Olivia received an Oscar nomination for Best Actress for her performance in
Hold Back The Dawn
. This time however, Olivia didn't lose to her co-star but her sister, Joan who won for her performance in
Suspicion
(1941).
After Olivia requested Warner Brothers to cast her in more substancial roles the studio retorted with a six month suspension. Adding to the suspension, when Olivia's contract with Warner Brothers was up, they demanded she make up time for the six month suspension. Though the demand went against California law, many in Hollywood had accepted just the sort as no actor or studio employee had been successful in doing otherwise. That was ofcourse until Olivia de Havilland stood up. Olivia decided to challenge them on this action as well as the entire perception at the time that actors were merely property of a studio. Olivia sued the studio and during the two year duration of the court battle she didn't appear in a single film. The court ruled not only in Olivia's favor, but in the favor of all actors stating that all performers were to be limited to a seven year contract that would include any suspensions. The "de havilland decision" was monumental as no longer were actors to be treated as slaves to their studios.
Olivia returned to the screen in 1946's To Each His Own and finally took home an Oscar of her own. Her performance earned The Academy Award for Best Actress. Olivia's next film, The Snake Pit, was one particularily close to her heart. During her court battles with Warner Brothers, Olivia had taken some time to tour the real-life battles of World War II. She witnessed the sad and often stuck with stigma mental illnesses that often plagued returning servicemen. This was her chance to bring the issue into the national spotlight. The Snake Pit's exposure to the conditions of the U.S. mental instutions at the time resignated anger amongst the public who now protested reform - and got it.
P.S. Just in case you are wondering, Olivia de Havilland was outstanding. What else is new now?
Olivia received Best Actress Oscar #2 in 1949 for her performance in The Heiress. Olivia plays a naive girl in love with a dashingly handsome man who her father suspects is out to get her fortune.
The 1950's was more or less a transitional time for Olivia. She began appearing less frequently on screen and was focused on spending time with her family. By now she had remarried to Pierre Galante, a French business man with whom she had her daughter Gisele with, and was also raising her son Benjamin from her first marriage with Marcus Goodrich. Olivia also started to appear on stage, Broadway that is, with starworthy performances in Romeo and Juliet and A Gift in Time.
Never the one to disappoint, Olivia didn't completely abandon the screen, nor would they let her, and some of her high performances included My Cousin Rachel, Not As A Stranger, and The Proud Rebel.
In 1962 Olivia took a shot at author and what do you know? She's a 'best' at that too. Her book Every Frenchman Has One, recounts Olivia's life in France and instantaneously became a bestseller. As for the big screen, throughout the 1960's de Havilland was dramatic! She took on roles in thrillers such as Lady In A Cage andHush, Hush, Sweet Charlotte with buddy Bette Davis. Over the next decade Olivia would continue on screen as well as enter the new medium of television with series such as Roots: The Next Generation, North and South andAnastasia: The Mystery of Anna which earned her an Emmy and Golden Globe. Though for many years now, her performance in 1979's The Fifth Musketeer has been considered her last appearance on screen. However, it seems we may be lucky and see her highness once more in the 2009 production of I-59 South. Cross your fingers!
Today, when she isn't receiving recognition left and right, Olivia spends her days in the city of Paris and is reportedly writing her memoirs. She been given just about every award under the moon, her more recent including: a special appearance and a standing ovation at the 2003 Academy Awards, a 2005 International Medal of the Arts from the Kennedy Center, a tribute from the Academy of Motion Picture Arts in Science in 2006, and her Star on the Hollywood Walk of Fame is located at 6764 Hollywood Boulevard. Not to mention an honorary degree given to her by the University of Hertfordshire, England at the age of 82. Very savy!
Whether it's the screen or stage, judicial or mental health system, television or literature, one thing is clear: Olivia is always a winner.