HAWKEYE PIERCE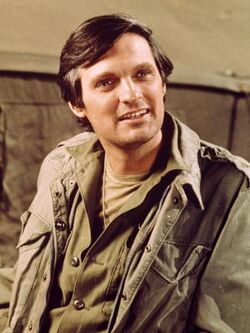 Born and raised in Crabapple Cove, Maine, Hawkeye is (according to the TV series) the son of Dr. Daniel Pierce. According to the novels, his father is "Big Benjy" Pierce, a lobster fisherman. He attended Androscoggin College, where he played football and intercepted a Hail Mary pass thrown by Dartmouth quarterback John McIntyre.
After his medical residency in Boston, Hawkeye is drafted into the U. S. Army and called to serve at the 4077th Mobile Army Surgical Hospital (MASH) during the Korean War.
Between long, intense sessions of treating critically wounded patients, he makes the best of his life in an isolated Army camp with heavy drinking, carousing, and pulling pranks on the people around him, especially the unpleasantly stiff and callous Major Frank Burns and Major Margaret "Hot Lips" Houlihan.
Hawkeye gradually evolved into a man of conscience trying to maintain some humanity and decency in the insane world into which he has been thrust. This was to a large extent due to actor Alan Alda's influence, as he infused the character with some of his political ideals and morals.