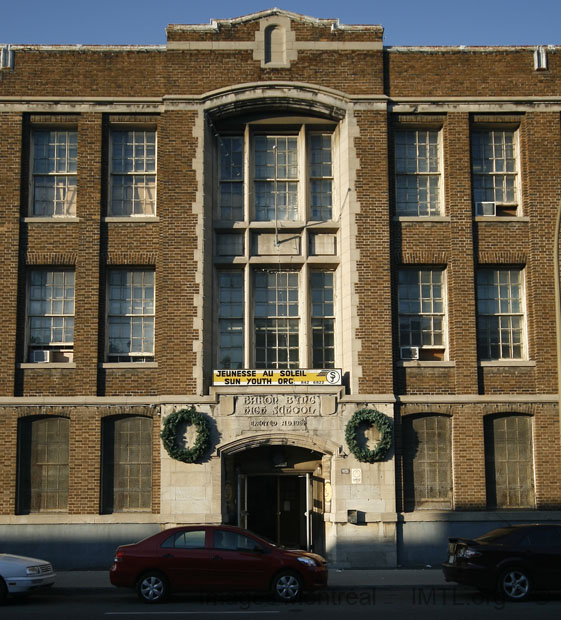 MEMORIES OF BARON BYNG HIGH SCHOOL
The Official Theme Song
What are they saying,
Those far distant voices,
That whisper and echo in accents so clear ?
List' as they tell us of days long departed,
When others rejoices o'er Byng's name so dear.
Constant and true
In our work and our playing;
Fight hard and long for the joy of the thing !
Fight to the end with your heart in the doing !
Up play the game as we learned it at Byng.!
School days long past,
And the world's tide has set us,
Far from the place where so gaily we sing.
We will rejoice that we practiced and fostered
* * * * * ****

The Unofficial Theme Song
The Early 1950's: Baron Byng High School. Montreal, Canada.
Give a yell ! Give a cheer !
For the boys that drink the beer.
In the cellars,
Of old Baron Byng.
They are brave ! They are bold !
And the liquor they can hold -
Is a story that's never been told.
So it's guzzle, guzzle, guzzle,
As it trickles down your nuzzle !
Shout out your order loud and clear. !
More beer !

So let's drink some more -
Until Yoss breaks down the door,
In the cellars of old Baron Byng.
**************************
Who composed these songs? I don't know.
I would welcome comments from anyone who remembers all the lyrics.

**************************************
Baron Byng High School was located at 4251 St. Urbain Street, in Montreal, Quebec, Canada. It was named after the Julian Hedworth George Byng, 1st Viscount Byng of Vimy, the Governor General of Canada from 1921 to 1926. Byng was a World War I hero at the battle of Vimy Ridge, an important battle that many historians, like Pierre Berton, believe formed Canada's national character. Byng was also involved in a political scandal dealing with the succession of the Canadian Government, the King-Byng Affair in 1926.
From the 1920s through the 1950s, the school predominately catered to Montreal's lower-income Jewish population.
From the 1980s onwards, the building was the home of the non-profit community organization Sun Youth (Jeunesse au soleil)
Baron Byng High School is notable because it had a virtual who's who of Canada's academic, arts, business and political leaders. It has been immortalized in many books, including many by Mordecai Richler.
Famous alumni
Morris Fish, Supreme Court of Canada judge
Sam Gesser, record producer and concert promoter
A. M. Klein, poet
Irving Layton, poet

David Lewis, Rhodes Scholar, labour lawyer, Leader of the New Democratic Party of Canada 1971-75
Frederick Lowy, medical educator and president & vice-chancellor of Concordia University

Rudolph A. Marcus, Nobel Prize in Chemistry 1992
Louis Nirenberg, mathematician
Simon Reisman, civil servant
Mordecai Richler, author
Philip Seeman, schizophrenia researcher

William Shatner, actor
(I believe that Bill Shatner denies attending BBHS)
Anne Savage, painter and art teacher.
From Wikipedia, the free encyclopedia
_________________________________
Also

D. M. Herbert, music teacher and choir master.
My father remembered the tough little gym teacher, Mr. Jones.
I studied at BBHS in the early 1950's.
My father, George Rubin of Metropolitan News.1248 Peel Street Montreal, and my uncle, Harry Feldman, also of Metropolitan News, also attended Baron Byng High School.