Male violence is deeply entrenched in South Africa, where three women are killed by their partners every day. Reeva Steenkamp was a victim both of one man, and of a grim culture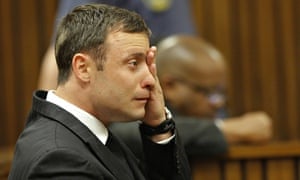 The case remains controversial for very good reasons. From the moment news of the killing broke in February 2013, Pistorius was given a sympathetic hearing by much of the world's press. Long before the case came to court, reporters uncritically repeated his defence, framing the story as a piece of tragic news involving a world-famous athlete and divorcing it from any wider context.
If campaigners hoped that Steenkamp's death would at least shine a much-needed light on this grim situation, they were to be for the most part frustrated. She was an atypical victim – white, middle-class and well known as a model – but even she stood no chance against the fame of her killer. In the aftermath of her death she was referred to in many reports as the athlete's unnamed girlfriend, prompting a Twitter hashtag that pointedly reminded the world that she had her own identity.
Pistorius sobbed and vomited his way through his trial as though he, rather than the woman he killed, deserved public sympathy. Now it seems as though those tearful histrionics have served their purpose.
In a country where gender inequality is entrenched, this is how easy it is for a well-known man to usurp the role of victim.
www.theguardian.com