A bilingual Quebec comedian, Samir Khullar whose professional name is Sugar Sammy, is a successful stand-up comedian based in Quebec.
Just prior to a performance in the city of Sherbrooke Quebec, last night ,someone phoned in a threat to the venue's box office apparently from a phone in the lobby. The caller said that "something will happen" and called the performer a "federalist clown".
The comedian is completely fluent and performs both English and French shows, and also bilingual shows, (He is also fluent in Punjabi and Hindi)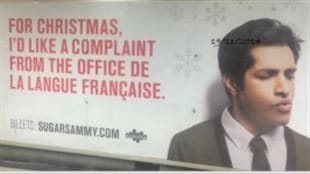 Sugar Sammy was criticized by sovereigntists in Quebec for his marketing stunt teasing the "Quebec language police" by posting in English only.
©
CBC
The comedian's routine often pokes fun at both English and French Quebeckers as relating to language issues in the province,. He often also targets the "Office Quebecois de la Langue Francaise- (Quebec office for the French language), which is colloquially referred to as "the Quebec language police"
Following the threat, the comedian was apparently somewhat on edge during the Thursday night performance. Police had checked the theatre prior to the show and remained on site during the performance.
Normally Sugar Sammy signs autographs after a show, but that was cancelled and police provided a safe escort for him out of Sherbrooke after the show.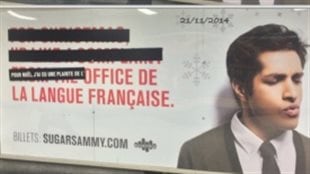 The performers management said they expected a complaint and were ready to block out the offending English immediately, with an added comment (in French) saying. "For Christmas, I have received a complaint."
©
CBC
Recently, as a promotional stunt, he raised the ire of committed separatists by posting billboards in the Montreal subway which read- "For Christmas I'd like a complaint from l'Office de la Langue Francaise".
In the mainly French speaking province of Quebec adverts in English only are illegal. All signage must be either exclusively in French or, if bilingual, have the French portion above and in larger letters than the English portion.
A Quebec lawyer Francois Cote, felt that teasing the OQLF was an affront to Francophone Quebeckers and indeed filed a complaint.
On a website,
Vigile. Net
, where hard-line Quebec sovereignists often post opinion-editorials, Cote wrote about what he considered an offence, deliberately misspelling the performers name as "Mr Smeer (sic) Khullar".
He wrote, "l'anglais sera toujours bienvenu au Québec dans la sphère privée" ….. "Il ne saurait être question de dicter aux citoyens quelle langue parler dans leurs foyers. En matière publique, la chose est différente" which can be loosely translated as "English will be always welcome in Quebec in private circles There is no question of dictating which language people speak in their homes. As concerns public situations, it's a different matter".
The French entertainment critics generally laud Sugar Sammy's shows.
RCI - Radio Canada International