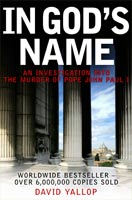 During the late evening of September 28th or the early morning of September 29th, 1978, Pope John Paul 1, Albino Luciani, known as the smiling Pope, died only thirty-three days after his election.
David Yallop began his investigations into his death at the request of certain individuals resident in Vatican City who were disturbed by a cover-up of the true circumstances surrounding the discovery of the Pope's body. It is his conviction that murder was the fate of Albino Luciani and he presents this evidence in this enthralling book.
Over three years continual and exhaustive research, David Yallop uncovered a chain of corruption that linked leading figures in financial, political, criminal and clerical circles around the world in a conspiracy of awesome proportions.
To this day the central questions raised in In God's Name remain unanswered. A new updated edition containing additional evidence is now available.
U.K. Publishers Constable & Robinson.
U.S. Publishers Carroll & Graf.
First published: 1984 ISBN: 978-1-84529-496-0
Yallop proposes the theory that the pope was in "potential danger" because of corruption in the Istituto per le Opere Religiose (IOR, Institute of Religious Works, the Vatican's most powerful financial institution, commonly known as the Vatican Bank), which owned many shares in Banco Ambrosiano. The Vatican Bank lost about a quarter of a billion dollars.
This corruption was real and is known to have involved the bank's head, Paul Marcinkus, along with Roberto Calvi of the Banco Ambrosiano Calvi was a member of P2, an illegal Italian Masonic lodge. Calvi was found dead in London, after disappearing just before the corruption became public. His death was initially ruled suicide, and a second trial — ordered by his family — then returned an "open verdict".
The day before Calvi's corpse was discovered, his secretary also "committed suicide" by falling from a fourth floor office window at the bank's headquarters. A note was found which attacked Calvi for bringing the bank into disrepute
Yallop also offers as suspects Archbishop John Patrick Cody of Chicago, whom he believes Luciani was about to force into retirement, and Cardinal Jean-Marie Villot, because of his supposed theological differences with the new pope.
Yallop's book examined many of the inaccurate statements issued by the Vatican in the days after John Paul's death and received international attention, including demands from some senior churchmen for an inquiry into the death itself
Following Yallop's book, Robert Hutchinson's Their Kingdom Come: Inside the Secret World of Opus Dei appeared in 1997. Hutchison believes that several individuals within the church who were opposed to Opus Dei and who ostensibly died from heart attacks may in fact have been poisoned. Drawing on Yallop's thesis, Hutchinson suggests that this fate may also have befallen John Paul I.
In God's Name: An Investigation into the Murder of Pope John Paul I, David Yallop. New York: Bantam Books, 1984, ISBN 0-553-05073-7