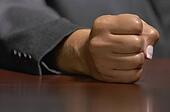 Why are we surprised ? Or are we ? Have we become so accustomed to corruption that we are not even listening anymore?

Anyone who dares to point the finger at power and say "Corruption !" is quickly silenced in one way or another - fired, discredited, paid off, intimidated ... sometimes - worse.

Truth is very dangerous and, in these two examples that appear on the news today, we can see how truth is suppressed again and again and again - for years.

But truth will out. All we have to do is live long enough to see it.

Quebec roadwork industry rife with corruption: report

CBC News
Posted: Sep 14, 2011 5:42 PM ET
Last Updated: Sep 14, 2011 9:06 PM ET

The report does not name companies or individuals involved with the alleged corruption. Radio-Canada

A leaked report prepared by Quebec's anti-corruption squad and obtained by the CBC describes the province's roadwork industry as rife with underground deals and tied to organized crime.

The report, obtained by the CBC's French-language service Radio-Canada, says it's routine for consulting engineering firms to inflate estimates for projects and for entrepreneurs to go over budget.

In some cases, they're the same entrepreneurs who attempt to charge the Ministry of Transportation for extras.

The ministry rarely fights those overages and, when it does, often settles out of court, the investigation found.

The report also says some of the money may end up being passed from the consulting firms on to political parties or used to pay workers under the table.

No companies or individuals are named in the report.

Premier Jean Charest did not comment on the report Wednesday.

A spokesperson from his office said it has not been reviewed yet.
Ex-Mountie raises questions about Swissair Crash
Published On Wed Sep 14 2011
An incendiary device may have triggered the crash of Swissair Flight 111 that killed 229 passengers and crew near Peggy's Cove, N.S. 13 years ago, says a retired RCMP investigator who pursued the case.
In a stunning disclosure, Tom Juby, an RCMP arson investigator who retired in 2002, confirmed to the Star Wednesday night that a team probing the disaster uncovered evidence that may suggest there was such a device on board but senior officials with the force stymied his efforts to look at it closer.
Juby said investigators found abnormally high levels of magnesium, iron and aluminum — important ingredients in an incendiary device, in the cockpit area of the aircraft.
"There's a whole lot more and it will be coming out soon," Juby said in a telephone interview from his home in New Minas, just outside of Kentville, N.S.
CBC's The Fifth Estate will be airing a documentary on questions about the crash on Friday night.
The Swissair flight from New York to Zurich slammed into the Atlantic Ocean on Sept. 2, 1998. Among the dead were United Nations officials and a Saudi prince. The aircraft also carried hundreds of millions of dollars worth of diamonds that were never found.
Juby would not disclose any other evidence but revealed that his RCMP superiors and aviation officials didn't support his concerns about a possible explosive device and prevented him from pursuing it for years.
Investigators conducted further tests but could not find the source of those elements and stopped work after 2001, he noted.
The Transportation Safety Board of Canada concluded that an electrical fault in overhead wiring caused a short circuit and sparked a fire in the cockpit which led to the crash.
If there was any suggestion of a criminal act, the board would have turned over its probe to the RCMP.
Juby, 60, told the Star he has been fighting the RCMP since 2001 over the issue of high levels of magnesium and other evidence but to no avail.
"I filed my last series of complaints in 2007 and they eventually refused to deal with them," he said.
Juby, who retired after 32 years with the force, noted he was bound by various statutes that prohibited public disclosure.
However, Juby added he has been free of those restrictions for some time and unsuccessfully attempted to gain public interest on other possible causes for the fatal crash. One reporter in Nova Scotia is currently working on a book about the disaster and questions surrounding it.
Spokespersons for RCMP and the federal safety board could not be reached for comment late Wednesday.
TRUTH IS THE MOST POWERFUL WEAPON ON EARTH
AND VILLAINS FEAR IT.