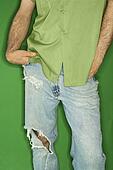 Industry has soiled western life. They have glorified UGLY.
When I was a kid, a pair of blue jeans cost $3.50. Only farmers and labourers wore them.
As a youngster I was laughed at for wearing denims, but I wore them at work because a girl should not be seen bending over a stack of newspapers in a skirt.
When our jeans became worn or frayed, we threw them in the garbage.
Then some smart operator decided to glorify blue jeans and sponsored expensive PR and advertising campaigns until, today, blue jeans - torn to shreds - that are in truth -garbage - cost big bucks and stupid young people buy them.
Those smart operators have succeeded in selling a big lie for huge profits. The clothing industry and the advertising industry moguls are laughing at their customers all the way to the bank.
"What fools these mortals be!"
(Act III, Scene II. A Midsummer Night's Dream, Wm. Shakespeare)
WEARING JEANS IS A POLITICAL STATEMENT
While the manufacturers and advertisers wallow in their profits from selling these rags, the young people who buy them are spitting in the face of convention.
Consciously or unconsciously, those with normal eyesight and intelligence know that frayed and torn jeans are ugly.
By wearing them for "fashion", they really are saying, "We don't give a damn, and there's nothing you can do about it."
Torn jeans are a political statement, declared - without speaking a word - by disgruntled cowards.
Irresponsibility and contempt live comfortably in denim jeans.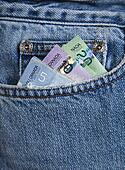 Industry moguls are laughing all the way to the bank.