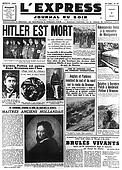 Hitler died,
Moussolini died,
Stalin died,
Pol Pot died.
The servant of Evil dies,
But the Spirit of Evil lives on.
The breath may leave the body
Of a tyrant
But Evil is like the wind,
Travelling where it will,
Exponentially.
It goes where it is welcome,
Or where it is feared.
It is thriving now.