PERCY RODRIGUES IN VANGUARD OF BLACK ACTORS
I have been thinking about our dear friend, Percy Rodrigues, and missing him.
It was the early 1950's. I was a girl of about sixteen or seventeen when I came to the Y.M.H.A. in Montreal to study drama with theatrical adjudicator Eugene Juisse after having received my certificate from the Montreal Repertory Theatre School.
When I joined the course, Howard Ryshpan, George Bloomfield and Jack Zoloff - men seriously involved in theatre - were already in the class.
As I recall, I had only attended one or two sessions, when Harvey Golden, executive director of the YMHA, suddenly came into the class one day and stopped the lesson. Mr. Juisse stepped aside. Golden had an important announcement for us.
As a novice, I was not privy to anything that had gone on before I joined. I sat and listened and I was shocked by what I heard.
I learned that a friend of Howard, George and Jack had been invited to join the class. His name was Percy Rodrigues. I recognized his name, but I did not know the man.
Harvey Golden had come to tell us that Percy Rodrigues was not going to be allowed to join our class - because he was a Negro, and it was feared that if he were allowed into the YMHA, the Jewish mothers would remove their daughters from the institution.
I never returned to the Y.M.H.A.
Decades later, I would learn that my husband, Cliff, knew Percy. They had met in 1947 when Cliff was playing at The Clover Cafe, across from the Montreal Forum, and Percy was the doorman. They had become good friends.
I was delighted to meet Percy at long last, and Cliff and I spent some memorable Christmases with Percy and his family at their home in Longueuil. I treasure the photographs I took of Cliff and Percy at those parties.
I can still see Percy in his bright tropical shirt preparing drinks behind the bar in his basement rec room where the music was rocking and his sons,Gerald and Ricky, and friends were enjoying the celebration, while Alameda, his wife, was upstairs with their daughter, Hollis and dauighter-in-law,Mimi, and the other ladies enjoying girl talk.
Percy was a charming gentleman with a mellow voice that would melt your heart. He was polite, handsome - and so gracious. When I told him about my experience at the Y.M.H.A. , both he and his wife, Alameda, told me that kind of thing was common and all too familiar to coloured people and they took it in their stride.
I never did. To this day, I am outraged. I do not forget, and I do not forgive bigotry no matter where it comes from. Ignorance is not bliss to me.
Back when I was a teenager, I and my fellow drama students were deprived of the opportunity to meet and get to know a talented and lovely gentleman and he had to accept the insult, graciously.
I am so grateful that fate allowed me to meet Percy later on and to enjoy his friendship.
VARIETY
Posted:
Fri., Sep. 14, 2007, 1:41pm PT
PERCY RODRIGUES, ACTOR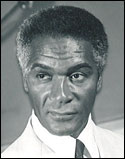 Rodrigues
Percy Rodrigues, who lent his booming voice to the "Jaws" promo campaign and appeared on TV shows including "Peyton Place," died of kidney problems Sept. 6 in Indio, Calif. He was 89.
Rodrigues broke black actor stereotypes by playing characters of authority such as judges, police chiefs, doctors and lawyers. When he was cast as a doctor in "Peyton Place" in 1968, a headline in the Los Angeles Times said: "A Doctor's Role for Negro Actor." His ominous narration was heard in the promotional campaign for "Jaws" in 1975 and in many other trailers.
He appeared on "Star Trek" as Commodore Stone and appeared in mini-series "Roots: The Next Generation."
He also had recurring roles on the "Sanford and Son" spin-off, "Sanford," and the "Soap" spin-off, "Benson." He made guest appearances on shows including "Wild, Wild West," "The Man from U.N.C.L.E.," "The Fugitive," "Mission: Impossible," "Then Came Bronson," "Ironside," "The Jeffersons" and "The Fall Guy."
Rodrigues had supporting roles in films including "The Heart Is a Lonely Hunter," "Come Back, Charleston Blue," "Rhinoceros," "Invisible Strangler," and "BrainWaves."
Born in Montreal, he worked as a boxer and machinist and joined the Negro Theater Guild, eventually turning to acting full time. On Broadway, he appeared in Tony-nominated plays "Toys in the Attic" in 1960 and "Blues for Mister Charlie" in 1964.
He recently came out of retirement to record the voiceover for the trailer for upcoming docu "The Shark is Still Working" on the cultural impact of "Jaws."
He is survived by his wife Karen, a daughter, a son, four grandchildren and two great-granchildren.
..................................
PERCY RODRIGUES

A symbol of intelligence, leadership and moral strength in his various 60s and 70s roles, African-Canadian actor Percy Rodrigues rose in Hollywood stature during the late 60s following a couple of earlier Broadway appearances. The serenely handsome, distinguished-looking actor also became notable for helping to break racial barriers on TV and went on to become a voice of great distinction behind the camera.

The oldest of four children born to a Montreal couple on June 13, 1918 (some references list 1924 as his birth year), Percy was of African and Portuguese descent. His father abandoned the family while he was a youth and Percy started working as a teenager to help provide for his family. By his late teens he had become a professional boxer and started scouting out acting jobs at the same time. He joined Montreal's Negro Theater Guild and although winning a Canadian Drama Festival acting award in 1939, found job offers scarce, prompting him to work as a machinist and toolmaker for the next decade or so in order to supplement his income.

His distinctive, booming voice commanded early attention and he narrated a few Canadian documentary shorts and appeared on TV. He finally made his Broadway debut in middle age with the Lillian Hellman drama "Toys in the Attic" starring Jason Robards, Maureen Stapleton and Anne Revere. He followed that with a stronger role in 1964's "Blues for Mister Charlie" in which he shared the stage with African-American actors Al Freeman Jr., Lincoln Kilpatrick, Rosetta LeNoire, Otis Young and Tony nominee Diana Sands.

This attention eventually led to film and TV offers and he settled permanently in Los Angeles. From the beginning he sought out dignified roles following Sidney Poitier's emboldening Hollywood ascension and became one of just a small vanguard of 60s black actors who was able to circumnavigate around such restrictive and negative stereotypes throughout most of his career. With just a brush of grey at his temples, he applied and projected quiet authority and inner calm to his many roles. He broke into American TV with episodes of "The Nurses", "Naked City", "Wild, Wild West", "Route 66" and (especially) "Star Trek" (as Commodore Stone) before making big news in 1968 for his casting as a neurosurgeon during the final season of the popular nighttime soaper "Peyton Place" (1964). Co-starring with Ruby Dee as his wife, it was a breakthrough white-collar role for a black actor in a series. In the same year Percy had an excellent supporting role in the critically-heralded film adaptation of Carson McCullers tender drama The Heart Is a Lonely Hunter (1968), in which he carried his own story line as an embittered physician at odds with daughter Cicely Tyson.

Other imposing roles came his way in the form of detectives, mayors, commissioners, lawyers, politicians, scientists, captains, ambassadors, lieutenants and, of courses, doctors, which seemed to be a growing specialty. More interesting roles came with the mini-movies The Old Man Who Cried Wolf (1970) (TV), Ring of Passion (1978) (TV), Angel Dusted (1981) (TV) and "Roots: The Next Generations" (1979). He also had recurring roles on "Sanford" (1980), the one-season extended series of "Sanford and Son" (minus the son) that again starred Redd Foxx, and in "Benson" (1979), in which he played a judge.

He continued to remain visible in the 1980s with episodes of "The Fall Guy", "T.J. Hooker" and "Dynasty", but after playing a doctor in the mini-movie whodunnit Perry Mason: The Case of the Sinister Spirit (1987) (TV), Percy refrained from on-camera work and focused instead on his image as "The King of Voiceovers". Among his more notable vocal projects were his eery voicings for the ads and trailers of the film Jaws (1975) and his narration of Michael Jackson's musical sci-fi Captain EO (1986) for Disney.

Percy's marriage to first wife Alameda produced daughter Hollis and son Gerald. Following her death, he married Karen Cook in 2003. He died of kidney problems at his Indio, California home on September 6, 2007 at age 89.
IMDb Mini Biography By:
Gary Brumburgh / gr-home@pacbell.net
Spouse
| | |
| --- | --- |
| Karen Cook-Rodrigues | (2003 - 6 September 2007) (his death) |
| Alameda Rodrigues | (? - ?) (her death) 2 children |
Trade Mark
Deep commanding voice
Narrator of dozens of trailers.
Solid, articulate, imposing African-Canadian actor who managed to avoid most of the standard stereotypes in Hollywood, usually playing white-collar roles such as a neurosurgeon on "Peyton Place" (1964).
Children: daughter Hollis and son Gerald.
Was an avid golfer, card player and jazz and blues enthusiast.
A couple of months before his death, Percy participated in "The Shark is Still Working, a new documentary on the tremendous cultural impact "Jaws" had on society. He recorded the voiceover for the new documentary's trailer as he had done on the 1975 movie "Jaws".
He was usually credited as "Percy Rodriguez" due to a common misspelling.
Has a daughter, Hollis, and a son, Gerald, from his first marriage.
His role as a neurosurgeon on the 1960s TV series "Peyton Place" broke ground because he was cast as an authority figure when relatively few black actors were given such parts.
..............................................................
PERCY RODRIGUES, PIONEERING ACTOR
By THE ASSOCIATED PRESS
LOS ANGELES, Sept. 17 (AP) — Percy Rodrigues, an actor who broke ground when he was cast as a neurosurgeon in the series "Peyton Place" in 1968, a time when blacks were just starting to win roles as authority figures on television, died on Sept. 6 at his home in Indio, Calif.. He was 89.
ABC, via Photofest
A distinguished-looking actor with a booming voice, he played doctors, politicians and other powerful characters in dozens of movie and television appearances. He also acted on Broadway. His television credits included "Ben Casey," "The Fugitive," "Star Trek," "Mission Impossible" and "Medical Center." On "Peyton Place," the 1960's primetime serial, he was Dr. Harry Miles in the final season.
Mr. Rodrigues, who was of African and Portuguese descent, was born in Montreal. The oldest of four children, he began working as a teenager and was a professional boxer by 18.
He had been acting since high school and won a Canadian Drama Festival award in 1939 but worked as a machinist and toolmaker for almost another decade before going into acting full time.
He appeared on Broadway in the 1960s in "Toys in the Attic" and "Blues for Mister Charlie." He retired from the stage in 1987 but continued to do voice work.
In addition to his wife, Mr. Rodrigues is survived by a daughter, Hollis; a son, Gerald, of Canada; four grandchildren; and two great-grandchildren.
Percy Rodriguez

in Peyton Place, 1968.

Born

Percy Rodrigues


June 13, 1918(

1918-06-13

)


Montreal, Canada

Died
September 6, 2007(

2007-09-06

) (aged 89)


Indio, California
Percy Rodriguez (June 13, 1918 – September 6, 2007) was a Canadian actor who appeared in many television shows and films from the 1950s to the 1980s. Born in the Saint-Henri neighborhood in Montreal, his birth surname was "Rodrigues," but after it was misspelled in a Broadway program early in his career, "Rodriguez" became his de facto stage name and most of his acting credits are under that spelling. He was of Afro-Portuguese heritage.
Rodriguez started his acting career in the 1930s appearing in stage plays and television series in his native country. He eventually moved to New York City where he made his Broadway theatre debut in Lillian Hellman's Toys in the Attic in 1960. He first gained widespread notoriety in 1968 for his role as neurosurgeon Dr. Harry Miles in the prime time soap opera Peyton Place. Rodriguez managed to avoid the stereotypical roles typically given to Black actors at the time. His deep, authoritative voice and articulate speaking manner helped Rodriguez to be cast usually as intelligent authority figures. He also narrated numerous movie trailers and documentaries throughout his career. He retired from acting in 1987 but continued to do voiceovers. He spoke of his narration of the trailer for Jaws in the documentary The Shark is Still Working. This was his final public appearance.
Television
Film