Oscar Pistorius is behind bars, reportedly at Kgosi Mampuru II prison in Pretoria, beginning a five-year jail sentence for the culpable homicide of Reeva Steenkamp.
I am of the view that a non-custodial sentence would send a wrong message to the community. On the other hand, a long sentence would not be appropriate either, as it would lack the element of mercy.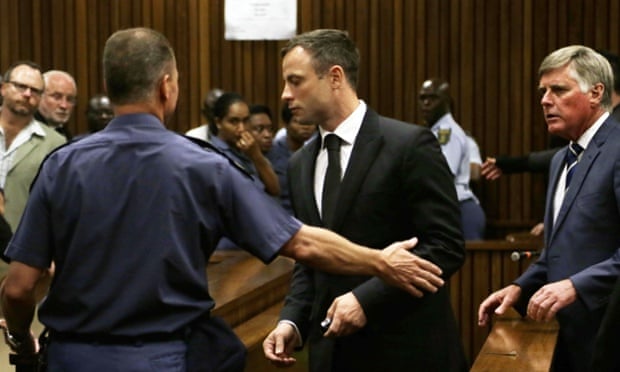 Photograph: Themba Hadebe/AFP/Getty Images
But the judge acknowledged that there would be many who disagreed with her ruling:
Society cannot always get what they want. Courts do not exist for a popularity contest but only to dispense justice … The general public may not even know the difference between punishment and vengeance.
Masipa described Reeva Steenkamp as:
Young, vivacious and full of life … a promising young woman who cared deeply for family, who was full of hope for the future, and lived life to the full. The loss of life cannot be reversed. Nothing I do or say today can reverse what happened to the deceased and to her family. Hopefully this sentence shall provide some sort of closure to the family … so they can move on with their lives.