I RECOMMEND
THE NEWSHOUR - PBS
BILL MOYERS -PBS
NOVA - PBS
DR. PHIL - CBS
DEMOCRACY NOW
CLOSER TO TRUTH
DEMOCRACY NOW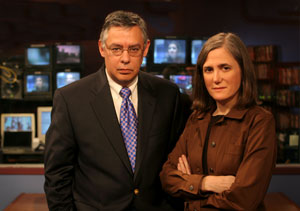 © Steve J. Sherman
Democracy Now! is a national, daily, independent, award-winning news program hosted by journalists Amy Goodman and Juan Gonzalez. Pioneering the largest public media collaboration in the U.S., Democracy Now! is broadcast on Pacifica, NPR, community, and college radio stations; on public access, PBS, satellite television (DISH network: Free Speech TV ch. 9415 and Link TV ch. 9410; DIRECTV: Free Speech TV ch. 348 and Link TV ch. 375); and on the internet. DN!'s podcast is one of the most popular on the web.
Democracy Now!'s War and Peace Report provides our audience with access to people and perspectives rarely heard in the U.S.corporate-sponsored media, including independent and international journalists, ordinary people from around the world who are directly affected by U.S. foreign policy, grassroots leaders and peace activists, artists, academics and independent analysts. In addition, Democracy Now! hosts real debates–debates between people who substantially disagree, such as between the White House or the Pentagon spokespeople on the one hand, and grassroots activists on the other.
New stations are adding Democracy Now! to their programming schedules all the time, and there are several movements going on around the country right now to bring Democracy Now! to new communities. To find out more about these efforts, and how to get involved, click here.
For true democracy to work, people need easy access to independent, diverse sources of news and information.
But the last two decades have seen unprecedented corporate media consolidation. The U.S. media was already fairly homogeneous in the early 1980s: some fifty media conglomerates dominated all media outlets, including television, radio, newspapers, magazines, music, publishing and film. In the year 2000, just six corporations dominated the U.S. media.
In addition, corporate media outlets in the U.S. are legally responsible to their shareholders to maximize profits.
Democracy Now! is funded entirely through contributions from listeners, viewers, and foundations. We do not accept advertisers, corporate underwriting, or government funding. This allows us to maintain our independence.
http://www.democracynow.org/about
CLOSER TO TRUTH
The Closer To Truth television program is the definitive series on Cosmos, Consciousness and Meaning, a global journey in search of the vital ideas of existence. It is the most complete, compelling, and accessible series on Cosmos, Consciousness and Meaning ever produced for television.
Closer To Truth explores fundamental issues of universe, brain/mind, religion, meaning and purpose through intimate, candid conversations with leading scientists, philosophers, scholars, theologians and creative thinkers of all kinds. The shows are a rich visual experience, shot entirely on location in high definition with multiple cameras generating rich production values.
Public fascination with questions of Cosmos, Consciousness and particularly of Meaning has grown substantially in recent years. Public debate has been intense, often heated.
Closer To Truth presents to mass audiences these leading-edge ideas in an approachable, rational and balanced manner, and introduces the human personalities behind these ideas. By meeting these change-making characters close-up, the thinkers behind the thoughts, visiting them in their homes, offices, labs, gardens, churches and temples, Closer To Truth humanizes riveting ideas and makes them more accessible and more relevant.
Closer To Truth has 13 seasons of episodes on Cosmos, Consciousness, and Meaning being broadcast, with more in production. Each 30-minute episode features four to seven of the world's foremost thinkers. The series as a whole features 237 (and growing) such authorities, each recorded in detailed conversations (between two and eight hours), in what we believe to be the most comprehensive and definitive treatment of these topics ever presented in visual or electronic media.
Closer To Truth is hosted, written and executive produced by Dr. Robert Lawrence Kuhn. It is produced by The Kuhn Foundation and Getzels Gordon Productions. Peter Getzels is Closer To Truth's award-winning producer/director. © The Kuhn Foundation 2000-2014.