There is joy in Mudville today.
Michael Applebaum said we were a mere splinter group and he scoffed at our pleas and our petitions. His friend, Marvin Rotrand threatened to throw me out of the public council meeting and stated before the entire assembly that, if he could, he would ensure that I was never allowed to attend another.
Phyllis Carter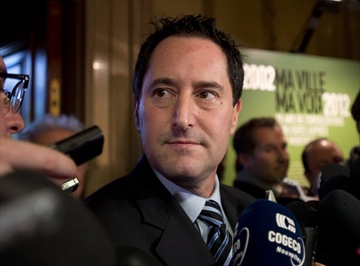 MONTREAL Montreal Mayor Michael Applebaum has been arrested at his home this morning by Quebec's anti-corruption unit.
Spokeswoman Anne-Frederick Laurence says Applebaum was arrested at his home at 6 a.m.
She said all other details, including the charges, would be released at a 10 a.m. ET news conference at the offices of the Sûreté du Québec.
La Presse reported Applebaum, 50, was taken into custody by agents of the anti-corruption unit, l'unite permanente anticorruption (UPAC).
Photos View gallery
Former Montreal city councillor and Conservative candidate in the riding of Mount Royal, Saulie Zajdel, was arrested by Quebec's anti-corruption unit Monday, June 17, along with Mayor Michael Applebaum. zoom
Two other people were arrested this morning. Laurence identified then as Jean Yves Bisson and Saulie Zajdel, both of whom had previously worked in the riding of Côte-des-Neiges-Notre-Dâme-de-Grace, which Applebaum had represented as a councillor or mayor since 1994.
All three were being held by the Sûreté du Québec.
Zajdel, a longtime councillor in N.D.G, was a federal Conservative party candidate for the riding of Mount Royal in the last election. Prime Minister Stephen Harper campaigned for him at an appearance at the Ben Weider Jewish Community Centre.
He lost to incumbent Liberal Irwin Cotler by fewer than 3,000 votes.
Zajdel was hired by heritage minister James Moore after losing to Cotler, the Canadian Press reported at the time.
He resigned last year, saying he was concerned he was distracting people from Harper's work.
Cotler said he was concerned that Zajdel was working on the public payroll to undermine him in his Montreal riding. The Liberals referred to him as a "shadow MP."
Zajdel told a Montreal radio station at the time his job was to promote and explain Canadian Heritage programs that are available to multi-ethnic communities.
"Frankly, it's kind of an insult to say I was a shadow MP," he said.
The anti-corruption unit was investigating Bisson in March in connection with a construction project owned by Montreal businessman and, according to organized-crime investigators, known Mafia associate Tony Magi, reported Alain Gravel, an investigative reporter with Radio Canada's Enquête program.
Bisson was the head of the permit and inspection service for N.D.G.
Gravel said Bisson's successor in the position, Robert Rousseau, was also questioned by UPAC and soon after was found dead in his Montreal-area home in an apparent suicide.
Rousseau was also questioned by investigators for the city's comptroller in connection with the same project, Gravel said.
At the time, Applebaum did not comment on the death. But Gravel said sources informed him that Applebaum provided the tip to the city's comptroller regarding the dealings of his former borough's permit and inspection.
Zajdel listed his current job as a municipal affairs consultant and real estate broker for Saulie Zajdel-Consultant, according to his LinkedIn page
He was a Montreal city councillor for 23 years, from 1986 to 2009, the LinkedIn profile said.
He also served as a director for the Jewish Rehabilitation Hospital Foundation for more than four years.
He attended McGill University, earning a Bachelor of Commerce and Marketing, then a Bachelor of Social Work, both in the 1970s.
Anti-corruption officials raided offices in Côte-des-Neiges-Notre-Dâme-de-Grace last February, as well as city hall and other boroughs.
Applebaum was appointed interim mayor last November after Gérald Tremblay resigned in the wake of allegations of corruption that came out of the Charbonneau Commission investigation. Applebaum was the first Anglophone mayor of Montreal since 1912.
In January, Applebaum denied a report by Le Devoir that he, too, was under investigation by the Charbonneau Commission for real estate transactions that dated to his time as mayor of N.D.G.
In May, Quebec's anti-corruption forces arrested the 72-year-old former mayor of Laval, Gilles Vaillancourt, and 36 other people, including senior municipal bureaucrats, engineers, lawyers, notaries and some of the biggest names in the province's construction industry.
Vaillancourt was freed on $150,000 bail without deposit and scheduled to reappear in court July 10.
His successor, Alexandre Duplessis, had asked the province in May to put Laval under a trusteeship.
Laval is a suburb just north of Montreal. The charges included fraud against the government, conspiracy, abuse of confidence, municipal corruption, money laundering and gangsterism.
The Canadian Press
http://www.thespec.com/news-story/3842787-montreal-mayor-michael-applebaum-two-others-arrested-by-anti-corruption-unit/
APPLE-BOMB - THE HISTORY OF MICHAEL APPLEBAUM -
CORRUPTION - CITY HALL OF MONTREAL
A HISTORY OF MICHAEL APPLEBAUM
THE NDG SPLINTERS
APPLE-BOMB - THE HISTORY OF MICHAEL APPLEBAUM - CORRUPTION CITY OF MONTREAL
MICHAEL APPLEBAUM VS THE PEOPLE
MICHAEL APPLEBAUM SILENCES THE CITIZENS