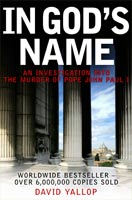 First published:
1984
ISBN:
978-1-84529-496-0
Murder and corruption -
New evidence of the Vatican cover-up
Over 6,000,000 copies sold worldwide.
In God's Name has been at the top of the bestseller lists all over the world. It contains some of the most explosive and dramatic revelations ever published about the internal affairs of the Vatican.
During the late evening of September 28th or the early morning of September 29th, 1978, Pope John Paul 1, Albino Luciani, known as the smiling Pope, died only thirty-three days after his election.
David Yallop began his investigations into his death at the request of certain individuals resident in Vatican City who were disturbed by a cover-up of the true circumstances surrounding the discovery of the Pope's body. It is his conviction that murder was the fate of Albino Luciani and he presents this evidence in this enthralling book.
Over three years continual and exhaustive research, David Yallop uncovered a chain of corruption that linked leading figures in financial, political, criminal and clerical circles around the world in a conspiracy of awesome proportions. To this day the central questions raised in In God's Name remain unanswered. A new updated edition containing additional evidence is now available.
http://www.yallop.com/ingodsname.aspx