I have been pleading for justice day and night since I was attacked and robbed in my home on October 7, 1996 - with the help of a Montreal Police officer.
Since then, the Montreal Police have refused to take legal action against the thief, Dawn McSweeney. The cover-up continues to this day.
I am on the Internet, day and night reporting these crimes and pleading for justice. My struggle has drained the life out of me. I am now fighting cancer as well.
I copy my reports to a list of members of governments, the media, the church, community and human rights organizations.
And still, there is no justice in Montreal, Quebec, Canada..
This scientific report suggests that the robbery and the actions of the Montreal Police and my relentless battle for justice may have triggered my cancer.
Phyllis Carter
Night Shift's Possible Link to Cancer
How disrupting the body's day-night cycle might be carcinogenic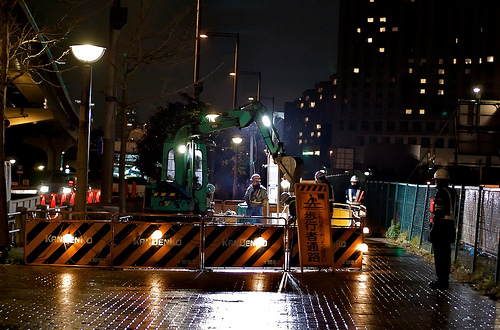 Hormone levels follow regular, 24-hour day-night cycles called circadian rhythms. Staying awake and working at night under bright artificial lights disrupts that cycle and in women, releases extra estrogen from the ovaries, which may increase their risk for breast cancer. Night shift work might also affect other cancers in which hormones play a role, including prostate cancer, according to the journal article.
The genes that control how healthy cells divide and how DNA repairs itself of any breaks or damage are also circadian. Healthy cells turn into cancer cells when their DNA gets damaged and they start dividing uncontrollably, so people who work at night may be more vulnerable to any other carcinogens they encounter, according to the review. Right now, the International Agency for Research on Cancer classifies shift work as a Group 2A agent, which means it's "probably carcinogenic to humans," one step below the known carcinogens in Group 1.
The thirty-three scientists who wrote the new review were trying to pinpoint which 2A agents best deserve more study, so they selected their 20 carcinogens based on how widespread they are and how strong the scientific evidence is against them—both excellent criteria. I think there's another reason to put more research into shift work and some of the other possible cancer agents in the review. These are mostly agents that people encounter in the workplace, in jobs they often wouldn't choose if they didn't have to. I still remember my dad working night shifts at a printer factory when I was little, so he could take care of me during the day while my mom went to the local technical school to learn English. That was not long after my parents arrived in the U.S. from Vietnam; they couldn't afford daycare. Potential carcinogens like shift work are risks people take when times are tough—I'd like to see that risk fully studied.
****************
From the day of the robbery - October 7, 1996 - when I called 911 for help as I was being attacked and robbed - the Montreal Police have repeatedly refused to take normal legal actions to recover precious possessions, money and property that were stolen from me and from my family by Dawn McSweeney and to bring her before a court of criminal law.
When the Montreal Police finally launched what appeared to be a serious investigation five months after the robbery, fingerprints "disappeared".
THE RETURN OF THE EMPTY JEWEL BOXES
OUR AGED MOTHER DISAPPEARED - MONTREAL POLICE REUSED TO INVESTIGATE
Dawn McSweeney's partner, Alex Lavergne, accuses Dawn McSweeney's mother. Debbie, of being the thief. Montreal Police refuse to investigate.
MONTREAL POLICE DO NOTHING
EVIDENCE THAT DEMANDS A VERDICT
Montreal Police detective, Sylvie Laverdiere told me - the victim - to do the investigation myself and report to her. So I did.
Then Montreal Police detective, Sylvie Laverdiere, went to my home and asked Dawn McSweeney for my Borg winter coat which Dawn gave to her - but she made no effort to recover my precious valuables.
Alex Lavergne posted numerous messages of hate mail on my blog. Again and again, I reported to the police.
THIEVES ACCUSE VICTIM OF BEING INSANE AND DANGEROUS -
THESE THIEVES HAVE ENDANGERED MY LIFE - FORCED ME TO HAVE CT SCAN
I provided the Montreal Police with documents, insurance papers, receipts, appraisals of my jewellery, photographs, a minutely detailed inventory of all the stolen items and several floppy discs of information. The Montreal Police do nothing.
Member of Parliament, Marlene Jennings,
stated at two public meetings in Montreal -
"MRS. CARTER'S RIGHTS
WERE VIOLATED THREE TIMES"
And still the Montreal Police do nothing.
And so I continue my struggle for justice, day and night for all the world to see. At this writing, more than 55,500 people around the world have read my reports.
But there is still no justice in Montreal, Quebec, Canada.