Keystone cops, corrupt courts,
And ridiculous politicians make
Montreal, Quebec, Canada
A paradise for thieves
And criminals of every persuasion.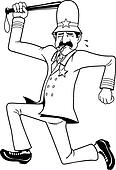 In Montreal, the police may do to you
What they did to me.
The police I hoped would rescue me -
Helped the thief instead !
RIDICULOUS POLITICIANS
MONTREAL -

Daughter of Montreal member of Quebec's legislature, Amir Khadr, released on bail on numerous charges
The father of this woman is a Muslim/leftist who regularly boycotts a shoe store in his own riding because they sell Israeli shoes.
QUEBEC - June 7, 2010 - Pauline Marois, Parti Quebecois leader dares to say,
"It is not acceptable to send this message, that it is possible to have free choice."
Pauline Marois says this without hesitation or shame. The people who are paying her salary don't have the right to free choice! In Canada in the 21st Century! I can just see all the intelligent, wealthy, young and healthy people - English and French - heading for the airport and the highway west. Where have we seen this before?
OTTAWA, CANADA
While citizens struggle to find feed their families, Canada's Prime Minister, Stephen Harper builds wooden gazebos and reflecting pools to amuse political visitors for a few days.
The Harper government to spend 28-million dollars to commemorate the
200th anniversary of the War of 1812.
While people are dying while waiting for medical tests and treatments, cement blocks are falling off buildings in Montreal, streets and bridges are falling apart, libraries are being closed and people are lining up for food hand-outs, Canada's Stephen Harper is about to treat his peers to another big show. For the G-8-G-20, Harper built wooden gazebos and reflecting pools. Now he has a bigger show in mind.
And when the Montreal Police helped criminals to rob a 60 year old cancer patient in her home,
Marlene Jennings, Member of Parliament of Canada and former Quebec Police Ethics Commissioner stated at two public meetings in Montreal in 2008 -
"Mrs. Carter's rights were violated three times."
But everyone says,
"These crimes are not my jurisdiction."
Come One, Come All,
To Montreal !
A Paradise for criminals !
Detailed reports are open to the world at -

PHYLLIS CARTER'S JOURNAL
It is all about Justice
Now with more than 59,000 readers around the world
And still no justice in Montreal, Quebec,Canada