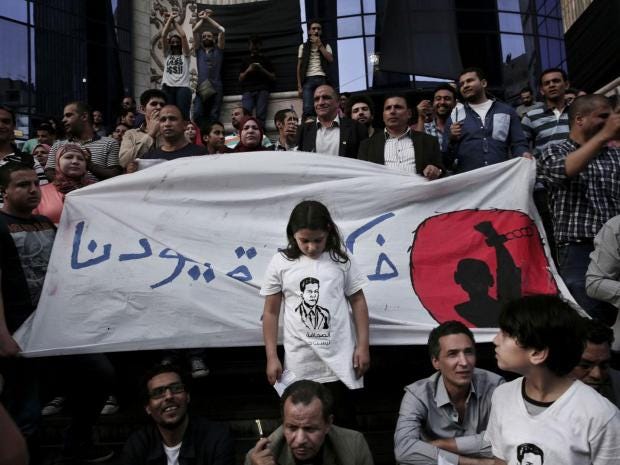 A girl stands in front of a banner with Arabic that reads 'remove our shackles' during a protest to mark World Press Freedom Day
She said the journalists were conducting street interviews on the strict Islamic dress code for women in public when they were challenged by passers-by for not focusing on Mr Sisi's request for small donations of spare change to fund deveopment programmes.


"There was a raucous scene that attracted the attention of police deployed outside the nearby Press Syndicate building," she said. "It was a random arrest."


However security officials and the New York-based Committee to Protect Journalists said the three were interviewing passers-by about Mr Sisi's request.


The beating and tasering allegedly took place at a police station located in the upscale Garden City district in central Cairo where the three were taken after their arrest in the city's downtown area.


Of the three, Ms Serag, Mr Mokhtar bore the most visible signs of torture, with his shoulders bruised from the tasering.
Mokhtar and Hassan worked for an online news site, al-Nabaa, while el-Bishbishi is employed by Balady, another site, said the lawyer. "They are neither members of nor sympathizers with the Brotherhood," she said.


The three were arrested on 26 September and have been remanded for for an extra 15 days pending further investigation.


Activists have said police have shown little tolerance for journalists filming or interviewing people in public since the overthrow of Mr Morsi, unless it is done as government-sanctioned events or by pro-government media outlets.


The government denies jailing anyone because of their reporting and has previously denied allegations of police brutality.


Additional reporting by AP