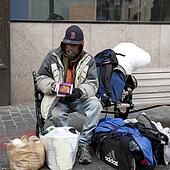 Here's hoping that this peaceful protest movement grows all over the western world.
Corruption is rife and this is the first time since the 1960's and Martin Luther King Jr. that so many of the People have stood together and cried,
" We're mad as hell and we're not going to take it anymore ! "
When each of us is suffering an injustice, those who hold power ignore our pleas and do everything possible to discourage us, divert us, delay and discredit us.
Alone, we are lost.
But now that so many individuals have come together to form a Movement for Justice, the most important thing is to keep up the momentum.
Cold weather is coming on fast. Many people will be unable to go out into the streets,
So this is the moment.
Even when the snow flies, the young people must take turns in throngs to keep up the fight for justice - for the poor, for the unemployed, for the under-employed, for the sick, for the handicapped, and for crime victims and victims of abuse - by their spouses, by their employers, by their landlords, by incompetent and corrupt police, by dishonest lawyers and corrupt judges, by the Injustice System that allows and accepts and aids and abets these travesties.
Bravo to the Protesters !
You are the best hope for justice in North America and beyond.
THERE WILL BE NO PEACE WITHOUT JUSTICE